Superior Garage Door Repair – Mankato, MN
Looking for trusted garage door experts in Mankato? You're in the right place! At Superior Garage Door Repair, we're your local team with years of experience. We handle both commercial and residential doors and always guarantee our work. Our deep-rooted expertise ensures that every project, big or small, meets the highest standards.
Schedule an appointment or call now to experience superior service.
Our Local Garage Door Repair Services In Mankato, MN
Do you need garage door spring repair? Or perhaps your opener is acting up and needs a fix? At Superior Garage Door Repair Mankato, we've got you covered.
Our range of services ensures that no matter the issue, we have a solution. From opener repair to complete installation, we are there for you.
If your garage door has gone off its tracks, our track alignment will have it running smoothly in no time. And if it's a worn-out or damaged panel that's the problem, our panel replacement service ensures a seamless look and flawless function.
Let us handle all your garage door concerns with expertise and care. Contact us now!
Garage Door Springs Repair - Safety First, Savings Next!
Did you know that over 10,000 garage door-related injuries are reported annually, many linked to malfunctioning springs? At Superior Garage Door Repair, we understand the critical role springs play in the safe operation of your door. Our specialized garage door springs repair and replacement service ensures that your door functions seamlessly, keeping you and your family safe.
With thousands of satisfied clients and over 99.9% success rate, we're your go-to for all garage door services in Mankato.
Don't miss out! Get expert repair services and amazing savings by booking with us today!
Fixing Garage Door Openers - Great Service, Great Prices!
Every day, garage door openers help us easily get in and out of our garages, often working thousands of times a year. Our Mankato garage door repair experts are dedicated to ensuring these openers are always up to the task. We work with well-known brands like Chamberlain, LiftMaster, and Genie. If your opener starts to misbehave, it can be a real headache. But don't worry, we're here to assist. And with the latest openers allowing you to operate your garage using just your phone, it's vital to keep them in perfect working order.
Got opener problems? Let's fix it! Call us now!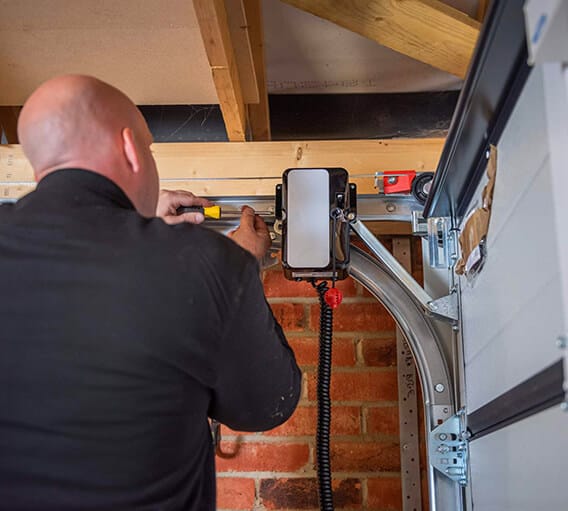 Garage Door Track Alignment - Setting It Straight for Safety!
Misaligned tracks can spell trouble, leading to over 30% of garage door issues reported annually. These deviations not only disrupt the smooth operation of your door but can also pose safety risks. Thankfully, our garage door repair Mankato experts have mastered the art of track alignment.
Our expert services rectify these alignment problems, ensuring your door runs smoothly, securely, and without hitches. Don't let a crooked track become a bigger problem.
Experiencing door glitches? Let's straighten things out! Contact us now for a quick fix!
Garage Door Installation Mankato - Expertise Meets Excellence!
Choosing the right garage door can transform the curb appeal and functionality of your home. However, installation is a task that requires precision and expertise. With several components, from springs to tracks, ensuring each part is properly aligned and installed is crucial for the door's longevity and optimal performance. Trusting professionals like Superior Garage Door Repair Mankato means you're getting the best hands-on treatment and advice for your new garage door. Let us make the process seamless and stress-free for you.
Ready for a garage door makeover? Book an installation appointment with us today!
Call Our Garage Door Repairman in Mankato, MN Now!
Mankato, a picturesque city nestled in the heart of Minnesota, boasts a rich history and a vibrant community. With ZIP codes spanning from 56001 to 56003, this city is home to many residential and commercial properties.
For Mankato residents and businesses, there's a name synonymous with trust and excellence when it comes to garage door services: Superior Garage Door Repair Mankato.
Whether you're located in the heart of the city or on its outskirts, our team is committed to serving you with promptness and professionalism.
Contact us for top-notch garage door services!
FAQs about Garage Door Services in Mankato
Are your repair services limited to specific ZIP codes in Mankato?
No, we serve the entirety of Mankato, covering ZIP codes from 56001 to 56003 and beyond.
What is the most common reason a garage door won't open?
The most common reasons a garage door won't open include:
Broken springs: These are vital for lifting the door. If they break, the door might not move.
Misaligned tracks: The door can get stuck if the tracks aren't aligned.
Dead remote batteries: If the remote doesn't work, its batteries might need replacement.
Issues with the garage door opener: The motor or its components might be malfunctioning.
Sensors are obstructed: Modern garage doors have sensors to prevent accidents. If something obstructs these sensors, the door won't operate.
My garage door isn't closing properly. Is it safe to use?
If your garage door isn't closing as it should, it's best to avoid using it until the issue is resolved. This ensures safety and prevents further damage. Contact us for a quick evaluation and repair.
Do you provide emergency repair services?
Yes, we understand that garage door issues can arise at any time. We offer emergency repair services to ensure your safety and convenience.